How To Make Money Trading Penny Stocks
How does 30% sound to start off your Thursday? Or $800 profit in about 25 minutes?
Let me show you the proof
Buy Alert: BMSN at 10:10am EST at $.0026 to buy 1,000,000 shares (see text alert below)
Sell Alert: BMSN to sell 1,000,000 shares at $.0034 at 10:32 am
Gain of $800 or 30% while eating my corn flakes for breakfast.
I told you before, I am SERIOUS about helping my traders make money; BIG MONEY!
Illgoblind .: boom out of BMSN $981 profit…ty SA
Jarrad: boom….in 1 million BMSN at .0027 and out at .0031….$384 win….thank you SA
BlueLine .: +$1,492.00 this morning from alert here. Thanks all!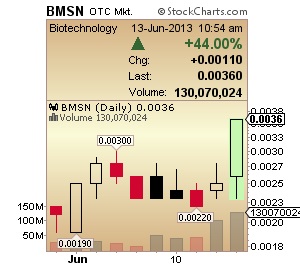 Click here to review all 105 video lessons you get FREE with my SuperNova Elite service.


With the SuperNova Elite Service Do I Get….
1. Buy/Sell email and text alerts – YES
2. Full Access to ALL 105 Video Lessons Valued @ $5,000 – YES
3. Full Access To Live Stock Chat Room – YES
4. Nightly Stock Watch List – YES
5. Access To YOUR Current Positions – YES
6. Full 5 Week MENTOR Program Access – YES
7. 24 / 7 Email Support – YES
8. Alerts From $.001 to $5.00 in Price – YES
9. PRE Alerts on MAJOR promo – YES
10. Do you get paid to alert stocks – NO
Are you ready to start making better trade decisions and even more profit than you could think is possible in the penny markets? If so, click on the link below
I am 100% confident my service will work for your portfolio size and your trading TIME that you have. Full time job, part time job or no job at all, my service is ideal because we scalp trade, day trade and swing trade.
Jeff