Honest Penny Stock Newsletter Service
Hello Free List,
Click here to review all 105 video lessons you get FREE with my SuperNova Elite service.
Yesterday we posted over 202% worth of gains. Today we are on the winning side once again.
Today I sold NNVC from $.62 to $.71 a long swing of mine and I WILL re-enter this trade but I locked in 15% here and feel great about that.
I also sold ARR for a 8 to 9% loss. I hated to sell but the markets are just too much back and forth right now for this stock. I will re-enter when the time is right.
It's all about "honesty" about your trades. Two days of trade and we are up 217% and drop in a 9% loss and thats still 208% worth of gains.
Before I leave, do you want the "ROYL" treatment?
I did a live breakdown on ROYL two days ago and we set our trigger at $2.75. Well, ROYL just tapped $3.20s for 19% gain.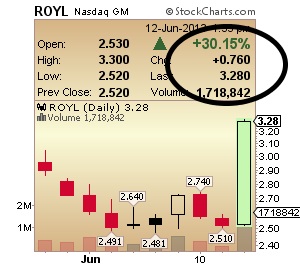 With the SuperNova Elite Service Do I Get….
Buy/Sell email and text alerts – YES
Full Access to ALL 105 Video Lessons Valued @ $5,000 – YES
Full Access To Live Stock Chat Room – YES
Nightly Stock Watch List – YES
Access To YOUR Current Positions – YES
Full 5 Week MENTOR Program Access – YES
24 / 7 Email Support – YES
Alerts From $.001 to $5.00 in Price – YES
PRE Alerts on MAJOR promo – YES
Do you get paid to alert stocks – NO
Are you ready to start making better trade decisions and even more profit than you could think is possible in the penny markets? If so, click on the link below
I am 100% confident my service will work for your portfolio size and your trading TIME that you have. Full time job, part time job or no job at all, my service is ideal because we scalp trade, day trade and swing trade.
Jeff