Earn $11,000 Trading Penny Stocks
Want to make $11,000 in 1 trading day? Tonight I will show you how.
"Jeff, I am amazed at your service and dedication to members making money. Overall I am up a whopping $11k today thanks to your tips and all the moderators help!!! also thanks to Mike for helping me with charts. – Tyler"
Listen, I want to say "I am sorry" but if you are looking for a service that focuses on 3% slow plays over the course of a few weeks then that is NOT my service. I want REAL BIG PENNY STOCK GAINS!
Alerts: CPSZ (Here is my actual buy alert: Added 900,000 shares CPSZ here at $.0009. Don't play "super" sub penny stocks very often but nice base at $.0008 on level 2. Goal is to sell 40% gain or more on the next move up. These can really build you account up FAST!")
Lets see how CPSZ did at the close, shall we? and YES I am still holding 75% later BOOOM!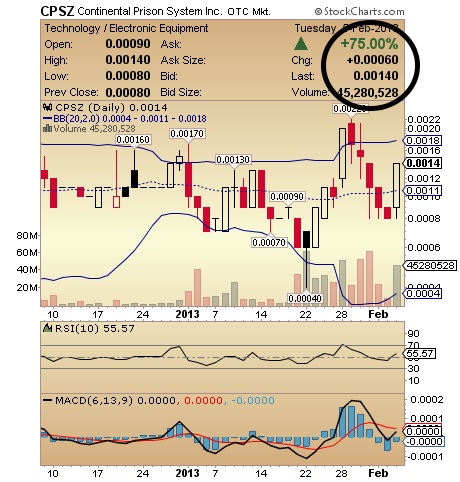 NEXT!
ALERT: CERP "I like CERP here at $.03 break, target $.04"
Outcome, CERP hits $.042 and traders make a KILLING!\
What you are missing…..
Mohan thank you SA in and out of CERP cool…$200 profit… my first trade ever… $200 in 5mins…
Jake Out ERBB for $500
Ronnie D Banks Jr.: ERBB in at .0034, out at .0059, cool 50% plus!
Sponger .: ERBB in 0033, out 0059, nearly 100% gain!
JASON: Holy crap… Out ERBB 300K for initial plus profit w 1 mil free ride!
Marla: out ERBB $2,100 profit bought 750,000 shares .0034 sold .0062 weeeeeeeeeeeeeeee
valentin x: $474 profit on CERP! thanks SA
JASON: Out ERBB $3,100 in 17 minutes! Love it
easy 1: out of ERBB for $670 profit @ 300000 shares Boula
Yes I would like to finally take advantage of this newsletter. I am SICK AND TIRED of watching my money go down the drain while you keep hitting winner after winner after winner!
Click on the button below for more details. Remember 75% gains, 50% gains. It only takes one or two trades to have paid for a FULL YEAR of my service; not to mention the $5,000 worth of educational video lessons you get for FREE when you sign up AND enrollment into the "SuperNova University" mentor program!