Closing Stock Trades For Wednesday
Hello Friends,
I am glad to see so many of you taking notice of me and the service I provide for you.
Let me give you a quick recap of today's trades so you continue to see the "transparent" person I am.
Want a FREE Stock report sent to your inbox? Click here now !
From the scans I sent you last night….
AUGT coming off bottom and reversal started, up 5% (still very early for this swing trade)
MOTR up 5% right now, very similar to AUGT this swing trade is just starting.
SuperNova Elite Alerts today:
CERP we took two 10 to 15% trades off this today, chart is below showing the massive move and big volume (remember liquidity is key for these stocks; which separates me from the "pump and dump" newsletters out there. Sell issued two times at $.044
AONEQ alerted at $.04, chart clearly shows a 30% plus move here for us
ANTH day two of our "alert" from Tuesday, solid bottom and nice move coming up to $.78 I believe.
Please see the attached charts below for verification that YES you can play penny stocks that have good volume and make very large profits with small investments.
Time is running out on my $50 discount, in just over 1 week the SuperNova Price will increase so take action today!
Click here to join our winning team now!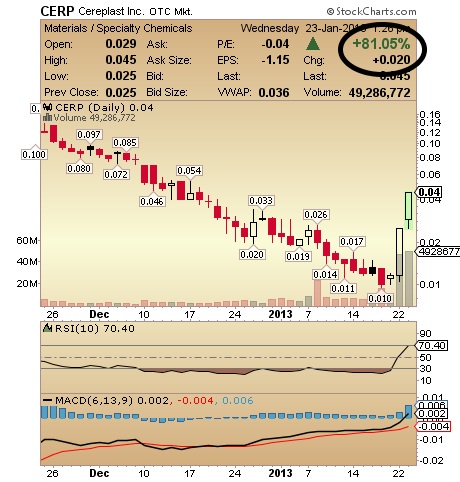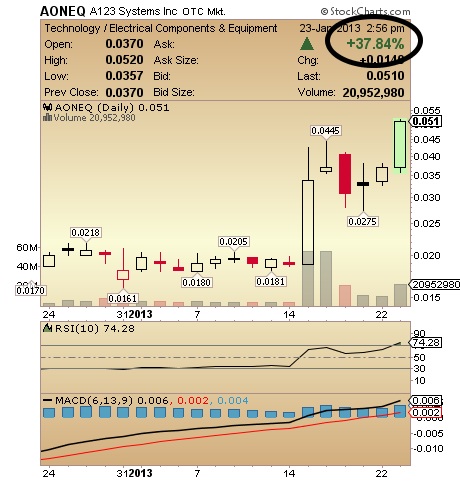 Jeff