Buy One Get One FREE Offer
Update: Ok I knew this was going to FLY but based on at least 35 emails already, YES I forgot the sign up link HA.
Click here to sign up now (Read email below for details)
"BOGO" Offer Now Open! Buy One Get One FREE!
You won't believe this but I am going to offer you yet another amazing deal that I know you can't refuse.
The last deal I did two weeks ago sold over 115 slots in just under 7 days. I have a strong feeling this deal which is even BIGGER than the last, will sell out even faster.
For the first 100 people to sign up for my SuperNova Elite newsletter, I am going to give you 100% FREE my latest "SuperNova Swing Trades" system.
Recent SuperNova Swing Trades
5,000 AEZS $2.70 buy $3.10 sell (profits $2,000)
5,000 GEVO $2.16 buy $2.50 sell (profits $1,500 plus)
5,000 BPAX $1.30 buy $1.40 sell (profits $500)
As you can see, these are trades you can put decent size into and they still stay true to my $1 to $3 dollar price scale of my SuperNova Elite system.
So if you like $.001 to $3.00 short term plays, then SuperNova Elite is your newsletter.
If you like $1.00 to $3.00 swing trades lasting more than a few days so you don't need to be tied to your computer than SuperNova Swing Trades is your newsletter.
SuperNova Swing will retail at $249 per quarter but if you are one of the next 100 to sign up for SuperNova Elite, then you will get this $249 value FREE as a gift from me.
To sign up and take advantage of this tremendous offer, just click here now and then click on the "buy now" for SuperNova Elite. You will be automatically enrolled in SuperNova Swings and receive email and text buy and sell alerts at NO CHARGE!
Can't wait to start working with you!
Jeff
"Jeff, I am amazed at your service and dedication to members making money. Overall I am up a whopping $11k today thanks to your tips and all the moderators help!!! also thanks to Mike for helping me with charts. – Tyler"
Listen, I want to say "I am sorry" but if you are looking for a service that focuses on 3% slow plays over the course of a few weeks then that is NOT my service. I want REAL BIG PENNY STOCK GAINS!
Alerts: CPSZ (Here is my actual buy alert: Added 900,000 shares CPSZ here at $.0009. Don't play "super" sub penny stocks very often but nice base at $.0008 on level 2. Goal is to sell 40% gain or more on the next move up. These can really build you account up FAST!")
Lets see how CPSZ did at the close, shall we? and YES I am still holding 75% later BOOOM!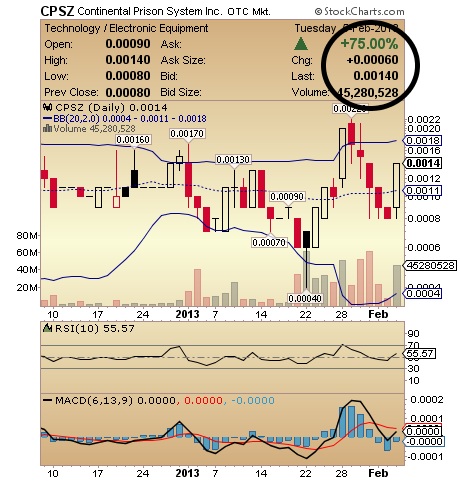 NEXT!
ALERT: CERP "I like CERP here at $.03 break, target $.04"
Outcome, CERP hits $.042 and traders make a KILLING!\
What you are missing…..
Mohan thank you SA in and out of CERP cool…$200 profit… my first trade ever… $200 in 5mins…
Jake Out ERBB for $500
Ronnie D Banks Jr.: ERBB in at .0034, out at .0059, cool 50% plus!
Sponger .: ERBB in 0033, out 0059, nearly 100% gain!
JASON: Holy crap… Out ERBB 300K for initial plus profit w 1 mil free ride!
Marla: out ERBB $2,100 profit bought 750,000 shares .0034 sold .0062 weeeeeeeeeeeeeeee
valentin x: $474 profit on CERP! thanks SA
JASON: Out ERBB $3,100 in 17 minutes! Love it
easy 1: out of ERBB for $670 profit @ 300000 shares Boula
Yes I would like to finally take advantage of this newsletter. I am SICK AND TIRED of watching my money go down the drain while you keep hitting winner after winner after winner!
Click on the button below for more details. Remember 75% gains, 50% gains. It only takes one or two trades to have paid for a FULL YEAR of my service; not to mention the $5,000 worth of educational video lessons you get for FREE when you sign up AND enrollment into the "SuperNova University" mentor program!